Wolf Related Events
Wolf Ecology and Behavior – June 4th, 2016 at 9 am-5 pm.
L. David Mech
Odin Havnepark Conference Center, Denmark

---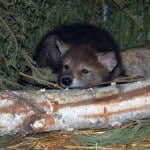 Welcome the 2016 Pups
Date: Tuesday, May 31, 9 a.m. 
Webinar rate: $15 Non-members, $12 Members
The summer of 2016 is special due to the planned integration of new pups into the Exhibit Pack. We don't know the exact time of their birth, but we can share some details from our previous litters. Typically pups are born in the last week of April or the 1st week of May. By this May 31st webinar, they should be approximately one month of age. Notable features include, erect ears, blue eyes, the development of dominance and food related behaviors and an increase of fear avoidance. Join us for this one-hour webinar as we highlight the physical and behavior development of our 2016 pups.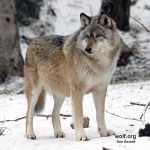 Wolves After Dark –  June 3-4
Registration Deadline: June 1, 2016
Have you ever wondered what happens after nightfall with the International Wolf Center's ambassador wolves? Here's your opportunity to participate in a "Citizen Science" and document important behavioral data critical to understanding the Exhibit Pack dynamics.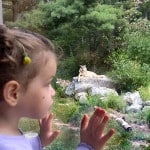 Wolf Family Rendezvous – June 4-5
Registration Deadline: June 18, 2016
With plenty of family-focused activities and outdoor fun, your family will talk about this trip for years to come! Spend quality time together learning about the north woods home of the wolf through hikes, crafts, games and observing our ambassador wolves. 
Gift Memberships…Kindness They'll Remember All Year Long
International Wolf Center members drive the effort to teach the science-based facts about wolves. A membership to the International Wolf Center is makes a perfect gift for any wolf enthusiast.
For an entire year, your gift recipient will enjoy:
A subscription to the remarkable quarterly International Wolf magazine
Unlimited free admission to the Ely, Minnesota Interpretive Center
Discounts on special programs like webinars, field trips and workshops
10% of purchase at the Wolf Den Store in Ely or online at shop.wolf.org
Jessica stands ready to answer your questions or to take your order by phone at 763-560-7374 ext. 227 or at Jessica@wolf.org
Thank You for Your Interest in Supporting Wolves!
Your donation to the International Wolf Center will be used to support education and understanding about wolves around the world. Your gift will help provide: 
Education and outreach programs in K-12 schools
Interpretive and enrichment programs for families, children and adults of all ages, including "Wolf Ethology," "Working for Wolves," and "Wild Family Weekends."
Live streaming wolf webcams and weekly wolf videos of our ambassador wolf pack in Ely, Minnesota