Spend an evening conversing with the Wolf Care staff on the successes and challenges of managing this complex social predator. 
Have you ever wondered what snowshoes are really made of? This workshop will introduce you to the art of making your own snowshoes, just in time for the winter snows to start blowing!
Join Us for the 2nd Annual Wolf Trek Bus Trip to the International Wolf Center in Ely, MN.
Family-focused activities and outdoor exploration, crafts, games, guided hikes in the north woods, observing ambassador wolves.
Upcoming Events
Join U.S. Now Renew U.S. Now Join or Renew International
"The International Wolf Center is a great place to learn more about wolves, their environment and their interactions with humans.  You can see your dollars at work right away in the lives of the resident wolves and in the education the Center offers to visitors…and the Web site."– Audrey S., longtime member and volunteer
Become a member of the International Wolf Center and contribute to the survival of wolf populations! Members like you make our education and outreach programs possible. As a member, you will help people learn the facts about wolves so they can make and inform important decisions in support of the wolf's survival.
Membership benefits:
Tax deductible
A one-year subscription to International Wolf magazine
Free admission to the flagship Educational Center in Ely, Minnesota
Discounts on and invitations to educational and recreational programs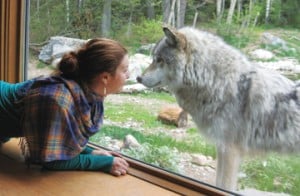 Member and actress Amber Tamblyn in a staring contest with the Center's ambassador wolf Grizzer. With members in more than 36 countries, you never know who you will see visiting the Center.
Find out why wolf experts from around the world support the work of the International Wolf Center…