Financial Statements
The International Wolf Center relies on financial and in-kind donations from members and donors, foundations, corporations and wolf enthusiasts around the globe to advance our mission. Below are PDF's of our annual reports, audited financial statements and IRS form 990's for the International Wolf Center's previous years' operations. Audited financial statements are available upon request from the development director, or you may view past Form 990's filed with the State of Minnesota.
2014 Annual Report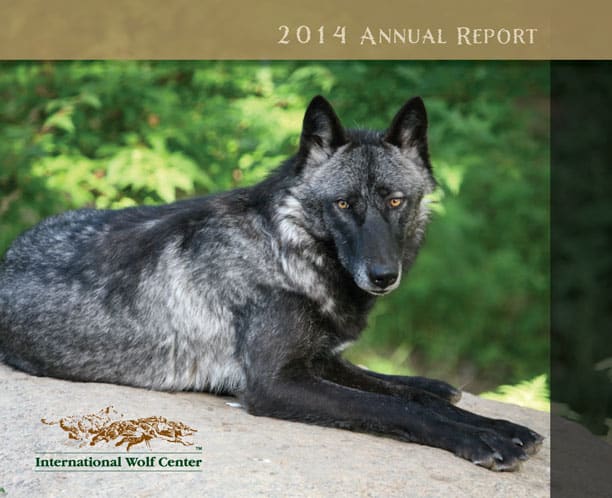 From the Board Chair
In this annual report, you will find the strong, important, underlying spine—the data and accomplishments—of our organization in 2014. If you attended a "What's for Dinner?" program, visited our Aurora! exhibit or searched our website for, say, information on wolves in Africa, you also came to taste the meat on the bones of the science-based International Wolf Center.
If you are a member, however, you also know the heart and soul of the real wolf through your member benefit, our International Wolf magazine. While you browse the pages of this 2014 Annual Report, I invite you to also download and explore (www.wolf.org/wolf-info/wolf-magazine) a few of these articles. Personal encounters, wolf politics and smart, basic information like the following fill the pages of International Wolf:
From the Spring 2014 issue: Now What? Two Views Address the Declining Wolf Population at Isle Royale. In a continuing controversy, renowned wolf biologists discuss whether this vanishing wolf population should be saved by human intervention.
From the Summer 2014 issue: What's Killing the Deer? A soaring Wisconsin deer population suddenly seems to crash, and hunters point to wolves as the perpetrators. But what is the real story?
From the Fall 2014 issue: In Memory of Shadow. Two of the Center's elder Ambassador wolves, brothers Shadow and Malik, died in 2014. Those who cared for the wolves since they were pups talk about these magnificent creatures in International Wolf.
I hope that you will join us—as members, donors and regular readers of this magazine—as we learn more about the wolf at home and around the world.  We can't wait to share it with you.
—Nancy jo Tubbs, board chair
Read more about what the International Wolf Center accomplished in 2014 with the help of our generous members and supporters. 
The International Wolf Center is a 501(c)(3) organization.
Save
Save
Save
Save
Save
Save
Save
Save
Save
Save
Save
Save
Save