Geocache Adventures In Wolf Range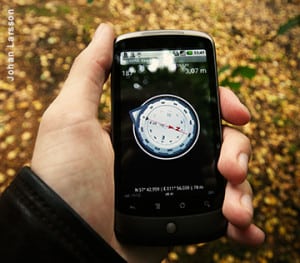 Date: June 10 – 11, 2017
Time:  Friday 8:45 a.m. – Sunday 9:00 a.m.
Registration Deadline: May 26, 2017
Program Rates:  Non-member $60, Member $54
Test your backcountry navigational skills while you discover the worldwide scavenger hunt pastime known as geocaching! We'll prepare you for your wildlands adventure through compass and map training, discussing "Leave No Trace" principles, teach you how to use a GPS unit, and much more! After our GPS and orienteering training, grab your hiking boots, lunch bags, and navigational tools as you will be hitting the trails in search of hidden caches in the northwoods. After your adventures, enjoy an evening with our ambassador wolves back at the Center, and watch them enjoy a meal while you enjoy your own dinner as well! Join us for this grand 2-day adventure in the northwoods, and discover the worldwide treasure hunt!
Download important program details [PDF] (cancellation policy, details on lodging, meals and transport, packing list and sample itinerary and Required Health Form).
Minimum Age: 12 *must be accompanied by adult if under the age of 18
Location: International Wolf Center
Minimum number of participants: 4
Maximum number of participants: 14
Activity Level:  MODERATE: At your own pace, you will be locating geocaches through the northwoods. Some terrain may be as easy as hiking trails, others may involve off-trail hiking.
Package Includes:
Meals: Saturday Lunch, Saturday Dinner, and Sunday Breakfast
Lodging: Slumber Party style accomodations on the lightly carpeted floor of our auditorium, in perfect view of our ambassador wolves! (Sleeping on site is not required, and you may choose to acquire your own lodging in Ely)
Programming: GPS, Compass and Map, Radio Telemetry, and Leave No Trace principle training.
Prizes: Small prizes will be given for achievements acquired during your geocaching activities!
Geocaching: You will receive a small bag of items to be left in the geocaches you find!
Photographic Opportunities
What's for Dinner feeding Program
Hiking adventures in the surrounding Superior National Forest
---
Note:   Itinerary is subject to change, and outdoor hikes and activities may vary with weather conditions.
Friday, June 9:
Receive free admission to the International Wolf Center. Simply notify our front desk that you are signed up for this program. Leave your name, and staff will allow you in with no additional admittance fee. Enjoy our wolves and humans museum, club little wolf, seasonal exhibit, theater, and our observation area and programming all day!
Saturday, June 10:
8:45am – Program/participant introductions/greetings.
9:30am – Hands on training with GPS Units, Map and Compass, and Radio Telemetry gear
12:00pm – Lunch in the field
12:30pm – Set out on your geocaching adventures for the afternoon!
5:00pm – Return to the International Wolf Center to share your findings. Prizes will be awarded for different geocaching feats.
6:00pm – Pizza Dinner
7:00pm – Get ready to learn about predator/prey relationships during our weekly "What's for Dinner?" program
8:30pm – Geocaching/Wolf Jeopardy game
9:30pm – Quiet hours
Sunday, June 11:
7:30am – Continental breakfast
8:00am – Discuss ways to stay connected and continue your geocaching adventures: Tutorial on logging geocaches and creating an account on Geocaching.com
Program concludes at approximately 9:00am.
Save
Save
Save
Save
Save
Save
Save
Save
Save
Save
Save
Save
Save
Save
Save
Save
Save
Save