Jr. Biologist Summer Camp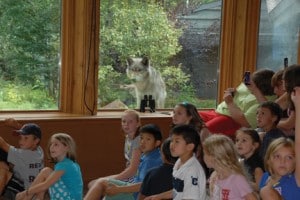 Date: July 16 – 19, 2018
Time: Monday – Thursday, 8:15 a.m. CDT- 3:30 p.m. CDT
Registration Deadline: July 2, 2018
Program Rates: Non-member $150, Member $140
Time to unplug your kids from the virtual world and reconnect them with the real one by joining us at our four day Jr. Wolf Biologist Summer Camp! Participants will learn about wolves and other animals through hands-on outdoor activities during this summer program.
Click to download important program details [PDF] (cancellation policy, details on activities, meals and transport, packing list and sample itinerary) Download and return the registration and liability form for each child prior to camp.
Minimum Age: 7 years old
Location: International Wolf Center
Minimum # of participants: 4
Maximum # of participants: 14
Activity Level: Age appropriate activities and hikes. Activities and learning will take place inside and outdoors. Please be prepared to dress for both.
Program Elements Include:
Expert instruction by Center staff
Investigation of the natural world and nature activities
Outdoor games and activities
Two snacks each day
Take-home craft activities
---
Sample itinerary
Program begins at 8:30 a.m. Doors will open at 8:15 a.m.
8:15 a.m. – Doors open
8:30 a.m. – Program begins
8:30 a.m. – Orientation & icebreakers
10:00 a.m. – Snack provided
10:30 a.m. – Wolf biology
12:00 p.m. – Lunch – Bring your own sack lunch
12:45 p.m. – Learn how to use actual radio telemetry equipment!
1:30 p.m. – Snack provided
2:00 p.m. – Journal or create plaster casts of wolf tracks
3:00 p.m. – Ambassador wolf observations
3:30 p.m. – Program ends for the day!
Save
Save
Save
Save
Save
Save