Wolf Snow Carving Workshop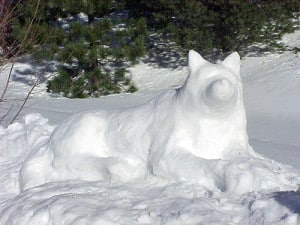 Date: January 27, 2017
Time:  Friday 9:00 a.m. – 3:00 p.m.
Registration Deadline: January 13, 2017
Program Rates:  Non-member $20, Member $18
If you've ever thought of being an amateur snow carver at the Ely Winter festival but didn't know the first thing about snow carving, here's your chance to learn! Join Center staff for hands-on instruction on the International Wolf Center patio. You will start the day at the Center's auditorium windows observing the ambassador wolves to gain some creative inspiration and get some basic instructions before heading outdoors to carve on the 4′ x 4′ blocks of snow.
If you find that carving is your forté, then join the International Wolf Center's Amateur Carving Team for the 2017 Winter festival at Whiteside Park. The snow carving contest runs from February 2–12. Contact Cameron Feaster if you want to join our carving team.
Minimum Age: 8 *must be accompanied by adult if under the age of 18
Location: International Wolf Center
Minimum number of participants: 4
Maximum number of participants: 20
Activity Level: MODERATE. Extended time outdoors crouched, bent over, and standing while carving a block of snow in winter temperatures.
Package Includes:
Instruction on snow carving basics
Opportunity to practice your carving skills
Campfire lunch, hot chocolate and s'mores

Save
Save
Save
Save
Save
Save
Save
Save
Save
Save
Save