Wine, Women, and Wolves: Boundary Waters Adventure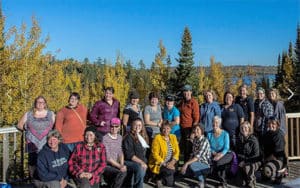 Date: September 15-17, 2017
Time: Friday 5 p.m. – Sunday 12:00 p.m.
Registration Deadline: September 2, 2017
Program Rates: Non-member $250, Member $225
Join us for a fun, relaxing girls weekend learning about wolves and the northwoods while enjoying the company of women who have the same hectic routine as you! Slow it down for the weekend, enjoy some wine and cheese as we gather at the Northern Tier High Adventure Canoe Base, participating in a weekend full of canoeing, radio telemetry, and trekking through the Boundary Waters Canoe Area Wilderness! Enjoy everything the BWCA has to offer on this magnificent outdoors excursion!
Download important program details [PDF] (cancellation policy, details on lodging, meals and transport, packing list and sample itinerary and Required Health Form)
Minimum Age: 21
Location: International Wolf Center
Minimum # of participants: 4
Maximum # of participants: 22
Activity Level: Moderate. Includes some outdoor activity such as hiking on uneven terrain, canoeing, and camping. Lodging is provided through rustic cabins at Northern Tier High Adventure Canoe Base
Package Includes:
Camaraderie with other women while learning about wolves and the northwoods ecology
All meals included
Lodging in the Center's auditorium and in rustic cabins at Northern Tier High Adventure Canoe Base
Canoe training by Northern Tier Staff
Introduction to Radio Telemetry (Some field work included!)
Wine and Cheese sessions each evening!
An unforgettable experience in the northwoods of Ely Minnesota!
Note: This program has outside activities. Dress appropriately; it's important to wear many layers.
---
Sample itinerary – Note that outdoors hikes and activities vary with weather conditions and temperature.
Friday, September 15, 2017
Receive free admission to the International Wolf Center. Use this time for self-guided exploration of the Wolves and Humans and Little Wolf Exhibits, to watch a wolf-themed movie in the theater, to participate in an interpretive program in the auditorium or for observation of our ambassador pack of live gray wolves. The Center is open daily at 10:00am.
5:00pm – Meet in classroom for introductions and expectations for this weekend program!
6:00pm – Depart for dinner at a local restaurant!
Enjoy wine and cheese over a fire pit snack after dinner!
9:00pm – Settle in for a slumber party style overnight in the International Wolf Center's observation area!
Saturday, September 16, 2017
6:30am – Start your day with a hot breakfast at a local restaurant!
8:00am – Depart for Northern Tier High Adventure Canoe Base!
9:00am – Introduction to canoeing!
10:30am – Discuss wolf research and radio telemetry. Prepare for an afternoon canoeing trip into wolf country in search of a wolf's radio signal!
12:00pm – Lunch at Northern Tier
1:00pm – Spend the afternoon canoeing in search of that elusive wolf radio signal!
5:30pm – Dinner at Northern Tier
6:00pm – Learn a little bit about wolf communication on a short hike from camp. Try your hand at howling to see if we get a response from a local pack!
8:30pm – Return for Wine, Cheese, and refreshments.
10:00pm – Settle into your cabins for the night!
Sunday, September 17, 2017
7:30am – Northern Tier breakfast
8:00am – Pack up belongings and return to the International Wolf Center
Program concludes at approximately 10:00am
Save
Save
Save
Save
Save
Save
Save
Save
Save
Save
Save
Save
Save
Save
Save
Save
Save
Save
Save
Save
Save
Save
Save
Save
Save
Save
Save