Wolf Ethology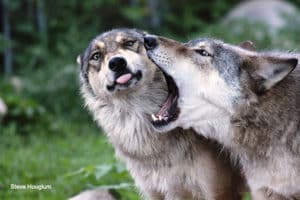 Date: July 28 – August 2, 2018  – FULL
Time:  Saturday 5 p.m. CDT– Thursday 12 p.m. CDT
Registration Deadline: July 18, 2018
Program Rates:
With Lodging: Non-member $795, Member $745
Without Lodging: Non-member $695, Member $645
Deposit: $250
The Wolf Ethology class is an intensive week of learning, fun, and experiences that will be remembered for a lifetime.
This course covers the basic principles of wolf behavior including: behavioral development, stimuli and communication, motivation, learned versus instinctual behavior, social organization, and the adaptability and evolution of behavior. Emphasis will be placed on video observations of wild wolf behavior, research of existing ethograms and hands-on activities including time spent observing and recording behavioral data of the Center's ambassador wolves. Two undergraduate biology credits from Vermilion Community college are available upon participant request and upon successful completion of course assignments.
The week includes up-to-date information presented by experienced wolf care staff, interpretation of raw video footage collected on site as well as in the field, activities in the field in active wolf territories, and opportunities for close observations of pack dynamics.
Don't miss this extraordinary opportunity to learn about these complex, social animals and how they interact and communicate within their pack and to outside packs.
Download important program details [PDF] (cancellation policy, details on lodging, meals and transport, packing list and sample itinerary and Required Health Form).
"Lori Schmidt presents a comprehensive course on wolf ethology, ecology, and conservation.  Using the IWC's captive ambassador wolves, local radio-collared wild wolves, and Lori's long experience and expertise, this course is sure to satisfy your thirst for information about wolves." – L. David Mech
Minimum Age: 18
Location: International Wolf Center
Minimum number of participants: 6
Maximum number of participants: 16
Activity Level:  MODERATE. The field trip will depend on weather and wolf activity at the Center and will include hiking over uneven ground one to three miles depending on group activities.
Package Includes:
Lecture style presentation from experienced wolf care staff
Training in behavioral ethograms and data techniques
Field activities within wolf territories
Behind the Scenes opportunities
Interactive Ethogram and 8 GB flash drive of wolf images
Interpretation of pack interactions by wolf care staff
Two undergraduate biology credits
---
Program itinerary
Itinerary may be adjusted depending upon weather conditions or special opportunities that may arise.
Saturday July 28
5 p.m. – Meet at the International Wolf Center observation windows – itinerary cabin assignments
5:30 p.m. – Travel to lodging or observe wolves
6:00 p.m. – Dinner at Center
7:00 p.m.- What's for Dinner? program – done by 8:30 p.m.
Sunday July 29
8: 00 a.m. – Breakfast on your own
9:00 a.m. – Behind the Scenes Program-Individual wolf ID- wolf yard
10 am – Noon – Lecture Principles of Ethology
Noon – Enclosure Enrichment – Observation and data recording
12:30 p.m. – Lunch on site
1:00 p.m. – Canid Genetics – Stimuli and Behavioral Motivation
2 pm – 4 p.m. – Introduction to Ethogram – Behavioral Codes
5 p.m. – Dinner on own
7 p.m. Video Comparison – Part I – Arctic wolves and one hour observation of captive wolves using Ethogram and computers.
Monday, July 30
7: 30 a.m. – Breakfast on your own
8:35 a.m. – Observe Wolf Care – wolf yard
10:00 am – Noon – Lecture Wolf Social Behavior, Predation and Predator/Prey Relationships, Pack Territory Mapping exercise
Noon – Enclosure Enrichment – Observation and data recording
12:30 p.m. – Lunch on site
1:30 – 5 p.m. – Radio Telemetry Field Session (VCC Vans)
5 p.m. – Dinner on own
7 p.m. – Video Comparison – Part II -Yellowstone wolves and one hour observation of captive wolves using Ethogram and computers
 Tuesday, July 31
7: 30 a.m. – Breakfast on your own
8:30 a.m. – Observe Wolf Care – Wolf Yard
10:00 a.m. – Noon – Wolf Reproduction, Stages of Pup Development
Noon – Enclosure Enrichment – Observation and data recording
12:30 p.m. – Lunch on site
1:30 – 5 p.m. – Wolf Territory Field Trip (VCC Vans)
5 p.m. – Dinner on own
9 p.m. Howling trip – Superior National Forest (VCC Vans)
Wednesday, August 1
7: 30 a.m. – Breakfast on your own
8:30 a.m. – Observe Wolf Care – Wolf Yard
10:00 a.m. – Isle Royale – 5 decades of Research data
Discussion on behavioral comparison of Captive, arctic, Yellowstone, Isle Royale behaviors
Noon – Enclosure Enrichment – Observation and data recording
12:30 p.m. – Lunch on site
1:30 – 5 p.m. – Wolf Behavior and Implications on Wild Wolf Management
5 pm – Dinner at Center
6 pm – 10 p.m.- Behavioral Data Collection at IWC (Reserve Auditorium)
Thursday, August 2
8:00 a.m. – Breakfast on Own – Pack up and bring cabin keys to center by 10 a.m.
10:00 a.m. – Data Analysis of weeks observations
Noon – Program Ends
Save
Save