Wolf Photography Weekend
Date: October 6-8, 2017
Time: Friday 5 p.m. – Sunday 12 p.m.
Program Rates: Non-member $175, Member $157.50
Deposit: $50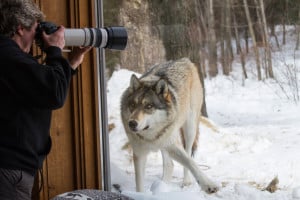 Discover the art of photographing wolves at the International Wolf Center. Participants will learn important information about wolves and what to look for capturing their unique behaviors. Spend time photographing wolves at the Center, followed by a field trip on Saturday. This will be the first winter for the 2016 arctic pups and they should be in their prime physically and behaviorally.
Note: the emphasis on this program is placed on photographing wolf behaviors; we are not teaching you how to use your camera but rather how to interpret behaviors and anticipating what "comes next."
Download important program details [PDF] (cancellation policy, details on lodging, meals and transport, packing list and sample itinerary and Required Health Form).
Minimum Age: 18
Location: International Wolf Center
Minimum number of participants: 6
Maximum number of participants: 14
Instructors: Lori Schmidt, Kelly Godfrey, Ann Rasberry
Activity Level: Moderate. The field trip will depend on weather and wolf activity at the Center and will include hiking over uneven ground one to three miles depending on group activities.
Package Includes:
Expert instruction by Center master photographers
Training in wolf behaviors by Wolf Care Staff
Hands-on instruction in wolf and wildlife photography
A field trip into wolf territory
Opportunity to gain advice and share experience with other photographers
Photographic opportunities all weekend of the Center's ambassador wolves
What's for Dinner? Weekly feeding program
---
Program itinerary – Note that outdoor activities vary with weather conditions and temperature.
Friday
Receive free admission to the International Wolf Center. Use this time for self-guided exploration of the Wolves and Humans and Little Wolf Exhibits, to watch a wolf-themed movie in the theater, to participate in an interpretive program in the auditorium or for observation of our ambassador pack of live gray wolves. Check the Center's website for seasonal hours of operation.
Dinner on your own
Program begins at 5:00 pm.
Photography and Wolf Behavior Presentations
Saturday
Breakfast on your own
Program begins at 9:00 a.m. Doors will open at 8:45 a.m.
Fundamentals of wolf-behavior photography and field trip into wolf territory
Lunch provided
Continuation of field trip, discussion of habitats and seasonal use
Photo session: shooting during the action
Dinner provided
Get ready to learn about predator/prey relationships during our weekly "What's for Dinner?" program.      
Programming ends for the day at approximately 8:30 p.m.
Sunday
Breakfast on your own
Story-telling through photos and continuation of fundamentals of photography
Show your best photos of the session
Program concludes at approximately 12:00 p.m.
Save
Save
Save
Save
Save
Save
Save
Save
Save
Save
Save
Save