Wolves and Bears and Eagles, Oh My!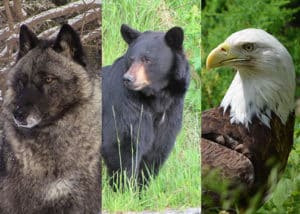 Date: September 29 – October 1, 2017
Time: Friday 5 p.m. – Sunday 12 p.m.
Registration Deadline: September 15, 2017
Program Rates: Non-member $280, Member $252
Discover all that the north woods has to offer through the all-inclusive Wolves and Bears and Eagles, Oh My! program. Journey to Ely, Minnesota and spend the weekend learning about three very different kinds of wildlife.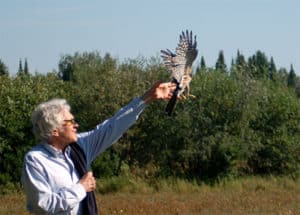 We'll take a trip out to the Hawk Ridge Bird Observatory, where we will have lessons from Frank Taylor in raptor banding, visit the North American Bear Center to see their live bears and exhibits, and of course, we will spend plenty of time at International Wolf Center! Meals and lodging are included, so join us for this multi-faceted adventure in northern Minnesota!
Download important program details [PDF] (cancellation policy, details on lodging, meals and transport, packing list and sample itinerary and Required Health Form).
Minimum Age: 12 *must be accompanied by adult if under the age of 18
Location: International Wolf Center, Hawk Ridge Bird Observatory, North American Bear Center
Minimum number of participants: 4
Maximum number of participants: 14
Activity Level: MODERATE: Some short hikes (less than a mile) on uneven terrain. May have extended periods outdoors
Package Includes:
Slumber-party style lodging at the International Wolf Center
All meals
Photographic opportunities
Opportunities to observe raptor banding, live wolf and bear behaviors
---
Program Itinerary
Friday, Sept. 29:
Enjoy free admission for the whole day!
5:00 Meet and greet at the International Wolf Center in Ely, MN
Discuss itinerary and expectations over dinner in town
Enjoy a private viewing of our Highlights of the Ambassadors Film
Saturday, Sept. 30:
Wake to a continental breakfast
8:00am departure for meeting with Frank Taylor in Duluth!
Discuss and observe raptor banding in the Duluth area with Frank Taylor
Lunch in town
Hawk's Ridge Observatory visit
Return to Ely for Dinner in town!
Enjoy our What's for Dinner program at the International Wolf Center
Sunday, Oct. 1:
Wake to a continental breakfast
Test the knowledge you've gained through your journey with a game of jeopardy!
Visit the North American Bear Center for some amazing educational opportunities!
Discuss ways to stay connected, and continue your learning!
Program ends at approximately 12:00pm. Sunday IWC and NABC admissions included.
Save
Save
Save
Save
Save
Save
Save
Save
Save
Save
Save
Save
Save
Save
Save
Save
Save
Save
Save
Save
Save
Save
Save
Save
Save
Save
Save
Save
Save
Save
Save
Save
Save
Save
Save