Working for Wolves
Date: May 12-14, 2017
Time: Friday 5 p.m. – Sunday 12 p.m.
Registration Deadline: May 1, 2017
Date: October 20-22, 2017
Time: Friday 5 p.m. – Sunday 12 p.m.
Registration Deadline: October 1, 2017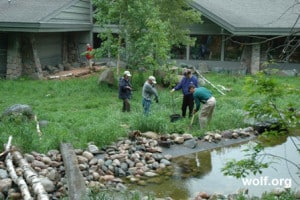 Program Rates: Non-member $225, Member $195
Deposit: $50
Spend a weekend "Working for Wolves" assisting the wolf care staff with some very specialized projects that benefit the ambassador wolves.  The fall sessions typically involve summer tree branch removal and preparation for winter.
Download important program details [PDF] (cancellation policy, details on lodging, meals and transport, packing list and sample itinerary and required health form).
Minimum Age: 18
Location: International Wolf Center
Minimum number of participants: 4
Maximum number of participants: 12
Activity Level: Participants must be prepared to work outdoors with prolonged standing, frequent bending, climbing, and lifting 20-30 pounds. 
Package Includes:
Interpretation of wolf interaction by wolf care staff
Wolf Enrichment stimuli presented during observation period
Friday – Informal dinner
Saturday – Continental breakfast and box lunch
Sunday – Continental breakfast
Photographic opportunities during peak wolf activity
Behind the Scenes Tour of the Wolf Care Department
Slumber party-style sleeping in the International Wolf Center's auditorium
---
Program Itineraries
Note: Itinerary is subject to change and activities may vary with weather conditions

Working for Wolves
May 12- 14, 2017

Friday, May 12, 2017

5 p.m. – Meet at Auditorium windows- Itinerary – Dinner Menu
5:15 p.m. – Pack Updates – Review of Projects
5:45 p.m. – Dinner at Center – Behavioral Observation
6:30 p.m. – Start of projects if applicable

Saturday, May 13, 2017

7:30 a.m. – Early Arrival if interested in Watching Wolves – Breakfast on your own
8:30 a.m. – Begin Enclosure Projects- TBD
Noon – Box lunch in Wolf Yard
1:00 p.m. – Enclosure Work- TBD
4:00 p.m. –Dinner on your Own
7:00 p.m. – What's for Dinner Program

Sunday, May 14, 2017

7:30 a.m. – Mother's Day Breakfast – Catered Britton's Cafe
8:15 a.m.– Retired Pack Work
Noon – program ends

Working for Wolves
October 20-22, 2017

Friday, October 20, 2017

5 p.m. – Meet at Auditorium windows- Itinerary – Dinner Menu
5:15 p.m. – Pack Updates – Review of Projects
5:45 p.m. – Dinner at Center
6:30 p.m. – Behavioral Observation
7:30 p.m. – Optional Wolf Howling Trip

Saturday, October 21, 2017

7:30 a.m. – Breakfast – on site
8:30 a.m. – Begin Enclosure Projects- TBD
Noon – Box lunch in Wolf Yard
1:00 p.m. – Fenceline and winter protective work
4:00 p.m. – Shower or Sauna options – Dinner on your Own
7:00 p.m. – What's for Dinner Program – possible evening burning TBD

Sunday, October 22, 2017

7:30 a.m. – Breakfast on site
8:15 a.m.– Retired Pack Work
Noon – program ends
Save
Save
Save
Save
Save
Save