Fall 2014
Features
Seeking Wildlands, Large and Small, for Carnivores
by Tracy O'Connell

On the 50th anniversary of the Wilderness Act, the attention of many is turned toward ensuring adequate wildlands for future generations of animals and humans. John Davis, co-founder of the Wildlands Network, formerly the Wildlands Project, explains why
this is an important goal, what is being done and what still needs to happen.
Wolf Population Status in Western United States: A Summary of State Reports
by Norman A. Bishop

The wolf population in the western United States is stabilizing and expanding its range. By 2012 wolves had been deemed recovered and delisted from the federal endangered species list in Montana, Idaho, eastern Washington, eastern Oregon, north-central Utah and Wyoming. This article takes an in-depth look at wolf populations in these states.
Do Wolves Cause Trophic Cascades?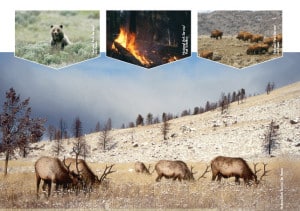 by Dr. L. David Mech

Ever since wolves were reintroduced into Yellowstone National Park, scientific studies have claimed that wolves were improving the ecosystem through "trophic cascades." A trophic cascade is a set of reactions down through a food pyramid starting with an animal like the wolf at the top, elk in the middle and plants at the base. Wolf expert Dr. L. David Mech addresses this issue in a Q&A with International Wolf. Download full article.
Departments
From the Executive Director
by Rob Schultz
As a new school year begins we are preparing to launch an outreach initiative unlike anything we have done before.
Funded by a Minnesota Environment and Natural Resources Trust Fund grant from the Legislative-Citizen Commission on Minnesota Resources, this new program, known as The Wolf at Our Door, is aimed at helping children understand the complex issues and public attitudes that surround state management of wolves in Minnesota.
Tracking the Pack
In Memory of Shadow
by Lori Schmidt, wolf curator, International Wolf Center
Shadow, a male resident arctic wolf at the International Wolf Center, was euthanized on Wednesday, July 2, after a significant physical decline in his overall condition. The 14-year-old wolf joined the Center's resident pack in 2000 with his brother Malik. He was euthanized in March after a similar decline in health. Shadow was the dominant pack leader in the Exhibit Pack from the fall of 2002 until his retirement in July 2010. The following are a few remembrances of Shadow from those who helped raise and care for him. Download full article.
Member Profile
Instilling in Students an Appreciation of Wolves and Nature
by Darcy Berus, Development Director, International Wolf Center
Susan Sweeney has taught high school biology at Trinity High School, in Camp Hill, Pennsylvania, for 36 years. She also is a long-time program participant and member of the International Wolf Center. She attended the 2013 International Wolf Symposium, participated in the Center's ethology course, and served on the 2008 wolf observation team when Aidan and Denali were introduced into the Center's Exhibit Pack (Sweeney tracked Malik's behaviors during the pup introduction).
Wolves of the World
Iranians Show Compassion to Wounded Wolves
by Tracy O'Connell

While wolves are hunted, legally or otherwise, in much of the world, Amir Mahdi Ebrahimi from time to time relates stories of everyday Iranians actually helping injured wolves recover and then releasing them back into the wild. A member of the International Union for Conservation of Nature (IUCN) Canid Specialist Group, Ebrahimi has studied wolves in Iran for many years, and in the past he has shared stories of the way Iranians have reached out to help the stranded canids. (See International Wolf Fall 2008 and Summer 2010.)
Personal Encounter
High Drama in Yellowstone
by Kirsty Peake

Watching wolves in Yellowstone brings high drama, laughter and sorrow. When my husband and I left our Montana home on February 2, 2013, we had no idea that the next few days would be a rollercoaster ride of emotions we had never before experienced.
WildKids
What Inspires You?
Wolves often provide inspiration. Being inspired means that something or someone has influenced you in a way that makes you want makes you want to take action. Heidi Pinkerton, a photographer from Babbitt, Minnesota, found her inspiration in a wolf named Maya. After hearing that Maya, a former ambassador wolf, had passed away in March 2011, Heidi decided to try to photograph the aurora borealis, or northern lights. As she was setting up her camera, a lone wolf howled in the night air. Later that evening Heidi was able to capture pictures of the northern lights. Those pictures were the first of many northern light photographs that Heidi is famous for today.
A Look Beyond

Sounding Out a New Idea
by Becky Rom
One of the most important educational messages of the International Wolf Center is that the long-term survival of the wolf depends on the preservation of wildlands. Fewer wolf-human conflicts occur there. Thus wolves have a greater chance of survival in wildlands, making this year's 50th anniversary of the Wilderness Act especially notable for anyone interested in wolves.