Spring 2016
Features
---
Ontario's Vanishing Caribou: Are Wolves Truly the Culprits?
By Cheryl Lyn Dybas

The gray ghost, it's called—the caribou of northern Ontario's boreal forest. Its habitat spans the province from northwest to southeast, and wolves are among the threats caribou face. But scientists have found that their decline traces back not to the wolf, but to us. Download full article.
Wolves to Dogs—It's Been a Long Journey, According to Science
By Tracy O'Connell
How did that cuddly pup, the loving pooch napping by the fire, break away from the apex predator that once roamed much of the world's landmass? It's a two-part question involving genetics and domestication, and the author explores the history and science behind them both.
Wolves Welcome!? Lessons Learned from 15 Years of Wolf Recovery in Germany
By Eick von Ruschkowski
In December a federal judge ruled that protections be reinstated for gray wolves in the Great Lakes wolf population area, reversing the USFWS's 2011 delisting decision that allowed states to manage wolves and implement harvest programs for recreational purposes. If biological security is apparently not enough rationale for conservation of the species, then the challenge arises to properly express the ecological value of the species. 
Departments
---
From the Executive Director
by Rob Schultz
Those of you who became members of the International Wolf Center since 2013 may have heard by now that every four years, we welcome two little additions to our ambassador wolf pack at the Interpretive Center in Ely, Minnesota. In April 2012, wolf pups Luna and Boltz arrived and began an intense socialization program before "graduating" into the exhibit pack in August.
Tracking the Pack
How Young Pups Sense the World
by Lori Schmidt, wolf curator, International Wolf Center
As we move into 2016, we are once again planning to integrate two wolf pups into our exhibit pack. Due to the unique nature of our wolf exhibit, which features various subspe-cies of the gray wolf, we adopt pups from other facilities and socialize them dur-ing the critical bonding period prior to 21 days of age. Our pack management plan includes in-depth, on-site train-ing for pup-care participants and core wolf-care staff.
Member Profile
Betty Magnuson and Jen Ell
by David Kline, Development Director, International Wolf Center
Although they discovered the International Wolf Center separately, mother and daughter Betty Magnuson and Jennifer Ell are inseparable in their support of the Center today. Serving together as the Center's official volunteer coordinators for the past decade, Betty and Jen have recruited, trained and encouraged dozens of regular volunteers for the rewarding work of wolf education.
Wolves of the World
Wolves Are Loved, Hated, Studied  and Hunted Around the World
by Tracy O'Connell

The chance to hear the howls of wild, eastern wolves draws tourists from around the world to Algonquin Provincial Park, located between Georgian Bay and the Ottawa River in central Ontario.
Rick Stronks, the chief park naturalist who organizes the public "Wolf Howl" outings, says they may be the biggest, naturalist-led interpretive programs in the world. Each one can draw more than 2,000 people. But for the past two years, the events have been cancelled because no suitable pack could be found.
Personal Encounter
870F–The Final Chapter  on a Wolf with True Grit
by Kirsty Peake
As winter 2014-15 approached, the    pack appear to be another emotional roller coaster for those of us who watch wolves in Yellowstone, and in particular for those who had taken 870F to their hearts after hearing her story of survival. 
Book Review
America's Wolves— Through the Eyes of the Court
by Richard Duncan
Law professor Edward Fitzgerald sets    the tale of wolf reintroduction     in the northern Rocky Mountains within a broad policy debate over whether federal courts should defer to decisions of administrative agencies, or more actively police what judges perceive as the intent of Congress in a statute, ed Species Act.
WildKids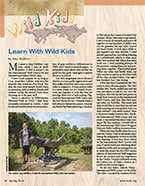 Learn With Wild Kids
My name is Amy Hubbert. Last year, when I was in sixth grade, I did a project on the International Wolf Center for my Talented and Gifted (TAG) class.
I have loved animals for as long as I can remember. I didn't only love the animals that everyone else loved, but also the ones most people found scary or annoying, such as snakes, lizards and rodents. Lately, the animal I have been focusing on is the gray wolf.
A Look Beyond

The Wolves of Oregon — A Promising, if Uncertain, Future
by Rob Klavins
Conjure up a vision of the American  West—a place of rugged mountains, untamed rivers, towering pines and iconic main streets. Some are populated by rugged cowboys driving dually trucks and others dominated by bearded hipsters, Subarus and brewpubs. In many places, they coexist.