Winter 2013
Features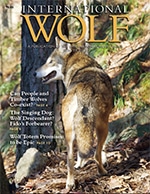 Can People and Timber Wolves Co-exist?
by Clarke Anderson

Reprinted with permission from Minnesota Conservation Volunteer magazine, this article was originally published in 1985. We reprint it to illustrate how little has changed in public attitudes toward wolves and wolf management over the past 25 years.
Singing Dogs
by Tracy O'Connell

The New Guinea singing dog, named for its unique howl, is a compact, handsome, athletic, short-haired canid that has been the subject of controversy and study. It has been classified as both a subspecies of wolf and as a type of primitive canine.
Wolf Totem Promises to be Epic
by Tracy O'Connell

Take a runaway bestselling novel, turn it into a movie set in a vast, remote land, name a director unwilling to back down from a challenge and throw in 18 Mongolian wolves. That's the mix for Wolf Totem.
Departments
From the Executive Director
by Rob Schultz
I have exciting news to share. The International Wolf Center has received the coveted Pinnacle Award from the Center for Interactive Learning Collaboration (CILC) for excellence in videoconferencing programming. The Center's devoted education team spent months in 2006 creating our award-winning WolfLink™ videoconferencing program. Since then, the staff has worked tirelessly to create and perform these deeply engaging interactive learning programs for classrooms around the world. These programs are reaching the next generation and hopefully creating a deep respect for wolves.
Tracking the Pack
Resilience and Inherent Rank Order Displays
by Lori Schmidt, wolf curator, International Wolf Center
Since introduction of our 2012 pups, the Wolf Care staff witnessed the increased activity that young wolves bring to a pack as well as Luna's resilience as she recovered from a serious bone-density problem.
Wolves of the World
The Wolves of Ukraine
by Alan E. Sparks and Yaroslav Dovhanych

Irena K. has had a long day. Up at 5 a.m. to milk the cow and mollify the noisy roosters with a few grains of corn, Irena finds it nearly impossible to keep the mud from invading her doorstep with her homemade broom of sticks. A spring thaw has come early to Transcarpathia—the southwest corner of Ukraine spanned by the Carpathian Mountains—where her house sits perched on the edge of an upland valley. She lost one of her dogs to wolves last month; her husband is away in the Czech Republic, sending back money when he finds work; and the kids are off seeking modern lives. The fate of their small farmstead and livestock now depends entirely on her, with the help of her one remaining canine guard.
Personal Encounter
A Lesson in Vulnerability
by T. DeLene Beeland

The first time I encountered a wild red wolf it occurred to me that I'd never been so near to a large predator while it was so meek and vulnerable. The contrast of how I expected the animal to behave versus how it did on that particular day was a revelation that I still carry with me today.
Wild Kids
Boltz, a Great Plains subspecies of Canis lupus, is the youngest male of the International Wolf Center's ambassador wolves at 1.5 years. Wolf Care staff originally named Boltz "Bolts" because of the way he would dart through the wolf yard.
A Look Beyond
Unintended Consequences of the Endangered Species Act
by Nancy Gibson
The 1973 landmark legislation establishing the Endangered Species Act (ESA) has been the salvation of many high-profile species, including the bald eagle, the American crocodile and, of course, the gray wolf. Culturally speaking, our society tends to place a high value on such charismatic animals. We want to protect what we love. It's only natural. However, keeping our most cherished animals on the endangered species list means there isn't room, money or time for all the other species that need protection.