Podcasts
Our podcast seminars are intended to provide educational information on a variety of topics including current wild wolf issues, wolves in the news and management issues related to the Center's ambassador wolves.
Note: If you experience trouble listening to the podcasts, make sure you are using the most current version of Internet Explorer or Firefox. You may need to download latest Adobe Flash Player plug-in.
Wolf Experts Discuss Recent Court Ruling
December 22, 2014

The International Wolf Center held a news media briefing on Monday, December 22, 2014 via a conference call.  A panel of wolf experts discussed the court ruling on December 19, 2014 from Judge Beryl A. Howell (download all 111 pages of her decision below).  Here is the hour-long audio recording of the briefing hosted by moderator Nancy Gibson.  Panelists included: Dr. L. David Mech, Mike Phillips, Dick Thiel, and Rick Duncan. Questions and answers covered a variety of topics from biology, the law, state management, history, politics, and much more.
The challenges of the 2012 pup litter
June 6, 2012

This podcast gives some background information on the 2012 pups and the challenges associated with an unusually early whelping period, nutritional challenges, Luna's medical situation and the next stages of management as we work with both the Ely Veterinarians and specialists at the University of Minnesota Veterinary Hospital.
Pups Have Arrived
April 20, 2012

Conducted by the Wolf Curator while she was working a night shift with the pups, this Podcast provides some basic background information to the Center's policy of wolf pup socialization. The pups nicknames are revealed and the Curator offers insight on the ramifications of an early pup birth.
Lone Wolf more "bull" than wolf -Information Services Director Jess Edberg reviews key inaccuracies in Jodi Picoult's new book Lone Wolf
March 11, 2012

Having recently nominated the movie The Grey for its new Scat Award, the International Wolf Center is adding famed author Jodi Picoult's new book, Lone Wolf, to the 2012 nominations for its ridiculously romantic treatment of wolf/human interaction. In this interview the Center's Information Services Director, Jess Edberg, sets the record straight on Picoult's many anthropomorphic assertions and insinuations. Listen to Podcast >
Wolf expert Dr. Dave Mech discusses the movie The Grey and his personal encounters with wolves
February 27, 2012

Dr. Mech was interviewed by International Wolf Center communications director Tom Myrick about the myths and inaccuracies promoted by Hollywood's latest depiction of wolves in the movie The Grey. In this interview, Dr.Mech corrects the film's inaccuracies and points out the negative impact on volatile wolf management issues. He also reveals stories about his own encounters with wolves. Dr. Dave Mech, is a senior research scientist for theU.S. Department of the Interior, U.S. Geological Survey (USGS), and adjunct professor at the University of Minnesota. Listen to Podcast >

Maya's euthanasia
March 8, 2011
Photo credit: Lori Rhodes
This Podcast is one of the hardest to produce, but discussing options of management after a tragic event is a necessary part of our job. The issue at hand is Maya's euthanasia on Tuesday March 1st after a veterinary determination that a compound fracture and dislocation to her left hind leg could not be repaired. In this podcast, we discuss the building scenario that we have been facing since Shadow's retirement and the changes to pack dynamics as fall progressed into winter. Listen to Podcast >
Pack Dynamics in the Exhibit Pack
July 25, 2010

Current Pack Dynamics and Plans for Shadow's Retirement
May 10, 2010
The winter season showed some strong pack leadership from Shadow, but also revealed the start of some 

physical weaknesses that are inherent with a 10-year old wolf. The plans for retiring a dominant pack member are much more complex than retiring an Omega. This podcast discusses the current pack status, and the issues that must be considered as the wolf care staff begin planning for the retirement of Shadow. Listen to Podcast >
Observations of Pack Dynamics since Malik's retirement
January 15, 2010

This podcast discusses the pack dynamics of the Exhibit Pack since Malik's retirement, and how this dynamics is monitored to determine when Shadow will be retired. Listen to Podcast >

Retirement of Malik
December 1, 2009

This podcast discusses the incident report concerning events on November 17th that lead to the decision to retire Malik. It also addresses the management challenges faced by wolf care staff in managing a lone wolf. Listen to Podcast >

Wolf to wolf interactions can be intense, so wolf care staff need to be trained and follow protocol
October 14, 2009

This podcast discusses the management protocol implemented at the International Wolf Center in Ely, Minnesota. It discusses the management practices and staff that keep the Exhibit Pack of ambassador wolves healthy and compatible. Listen to Podcast >
Making sense of the Ethogram codes
August 23, 2009

This podcast describes the behavioral categories that best align with the ethogram codes, and provides a narrative description of the data results from the summer Ethology course, and the planning for pups weekends which each had a data collection component. This data analysis is critical to help the wolf care team determine the pack's current state of tension or cohesiveness and overall well-being. Listen to Podcast >
What's for Dinner?
July 28, 2009

This podcast provides a narrative of the weekly feeding program called What's for Dinner, live from the enclosure as the feeding occurs. Listen to Podcast >
Rank order dominance can change
June 22, 2009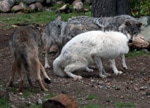 Since the pup introduction in the fall of 2008, the pups have influenced the pack dynamics significantly. The greatest influence was on Grizzer's tolerance and lack of maintenance of his second ranking status. As winter progressed, Malik the 3rd ranking male continued to test Grizzer and looked for weaknesses, by May of 2009, Grizzer had enough testing and reaffirmed his rank as the 2nd ranking male. Here the perspective of the Curator describe this situation. Listen to Podcast >
Wolf Ethology Data Results on the Exhibit Pack interactions
May 28, 2009

This podcast reviews the data completed by the Vermilion Community College Intro to Ethology course offered during the spring semester 2009, with the data gathered in the same course in 2007. It is interesting to see the change in behavior. The data collection process has changed dramatically with the award of the HP Grant, providing 21 HP Tablet PC's for ease of data collection and reference to the Interactive Ethogram. While there is a lot of analytical data in this podcast, it is interesting to listen to the interpretation of this data, as the wolf care staff try to project the changes to pack dynamics and the ultimate retirement of Shadow and Malik. Listen to Podcast >

Vaccination protocol and spring cleaning
April 29, 2009

Spring is a busy time in wolf care; For the wolves, it means their annual vaccinations are administered. For wolf care staff, it means trying to determine the right conditions to subcutaneously inject vaccinations without drawing the curiosity of the wolves to the syringes, staff holding the syringes or to each other. Staff wait for the warm spring days, when wolves in their winter coats, would rather lounge and stay cool than be active. Spring also involves a lot of work getting the many straw bales provided for warmth in the winter, raked up and hauled out to encourage new vegetative growth. This podcast discusses the issues related to vaccinations and the designated protocol. Listen to Podcast >
What comes in… must come out, a look at nutrition, scat and parasites
March 31, 2009

This podcast discusses the feeding, nutrition, scat and parasitological conditions facing the captive wolf management program at the International Wolf Center. This podcast was recorded in the lab, the freezer and in the wolf enclosure. The impending snowstorm and wind conditions are heard in this broadcast as audio was recorded in the wolf enclosure. Denali is a bit possessive of anything in our hands, so there are a few moments, when Denali is attempting to bite the microphone. Listen to Podcast >
Winter dominance, alpha terms and the influence of hormones
February, 2009

During the month of February, captive wolf managers often face a more aggressive exhibit, correlated with the wolf breeding season. Even though our Exhibit Pack is spayed and neutered, we have an influence of adrenal glad secretions that influence pack behavior. This exhibit is a different formation than typical wild wolf packs that include parents and their offspring, the Center manages three generations of three different subspecies, resulting in an increased likelihood of pack dynamics influenced by rank order. The podcast contains a pack howl, with subsequent dominance and rank order behavior. There are only 6 wolves howling, but the changes in pitch always make it sound like there are more wolves. Listen to Podcast >
Pup Vocalization and Development
December 5, 2008

In May of 2008, the Center acquired two pups from the Wildlife Science Center. Wolf Care staff and seminar participants rotated 24 hour a day shifts to provide basic needs of the pups and record the sites and sounds of pup development. Listen to Podcast >