Grizzer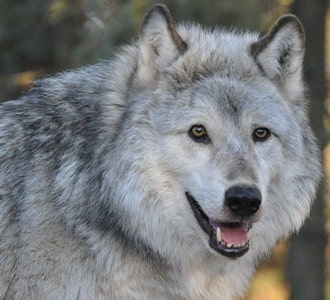 Grizzer, a Great Plains subspecies of the gray wolf, was born on May 5, 2004. He is a littermate to Maya and has matured into a strong and big (120+ lb)… adult male. He was removed from the Exhibit Pack in March 2011 after the tragic loss of his littermate, Maya. It was determined that Grizzer had been losing confidence in his status and without the dominance of his littermate, he couldn't compete with the younger packmates. Grizzer is retired. During the summer of 2011, an additional habitat was created to allow Grizzer more space and to interact with the other wolves through the fences. 
Grizzer is included in the weekly wolf logs which includes a photo, notes on behavior or physical health. The Center also posts a weekly YouTube video that highlights the activity of each wolf during the week. 

For more information on our ambassador wolves, watch extended wolf videos on the International Wolf Center's YouTube Channel or enjoy a close-up of wolf behavior on our Wolf Watch Cams.
If you are interested in sponsoring Grizzer, please click here.
Save
Save
Recent Logs for Grizzer:
Grizzer - Luna's interactions make him younger Photo by Wolf Care Staff
Grizzer – Luna's Interactions Make Him Younger
November 9th, 2017
Grizzer and Luna have been extremely social recently. While sometimes he does not appear to be interested in Luna's antics, more often than not her attempts to get him to chase are successful. Grizzer seems to be enjoying the snow and the cold, and is very active in the retirement enclosures. In addition to chases with Luna he is still observed doing his regular "Grizzer 500s."

Grizzer - Checking out visitors in a Behind the Scenes program. Phot by Anthony Brewer
Grizzer – Aware Of His Surroundings
October 12th, 2017
This week's log was submitted by Wolf Photography Weekend Participants – Ken Kaveney, Lynn Kaveney and Anthony Brewer.
Grizzer was wary of the group of unknown visitors, moving at all times, circling Luna on the main retirement den. He continued walking "the Grizzer 500" the entire time, coming up to the gate just to check out these new observers.

Grizzer has certain paths of travel through the vegetation.
Grizzer – Maneuvering Through The Vegetation
September 1st, 2017
By using all three retirement enclosures, we are dispersing the travel paths and reducing the soil compaction.  With a little help of a higher than average rainfall, the vegetation has responded well this summer.  There are parts of the retirement enclosure that are only accessible by a path that is only 3 feet high, better known as Grizzer's path.  While his ACL injury is bothersome, especially when he has been resting for extended periods of time, he can still maneuver through the enclosures especially when he sees the staff prepping his daily meals.  The anti-inflammatory medications are doing little to help, the Veterinarians are treating his condition through pain management and staff are working on additional visits to make sure he is comfortable.  Grizzer still likes to roll over for staff and get a full-belly massage.  The daily feedings are working as well, he is back up to 122 pounds.  As with Luna's circumstance, we want to keep the weight at a manageable weight to reduce stress to joints, but with winter coming, this is a good weight for Grizzer to enter the winter prior to his 14th year.

Grizzer with a blue mark from a cognitive mirror test
Grizzer – Showing A Residual Mark
August 2nd, 2017
We just finished a 10-day trial of Deramaxx to help Grizzer with inflammation due to his torn ACL.  We did not see any difference, so we are going to start him on a 10-day trial of Rimadyl.  Some animals respond better to one medication over another.  We will let you know how Grizzer responds to the Rimadyl in a future log.  The retired pack had a number of behind the scenes visits from the Wolf Ethology class this week.  For a wolf that may not be feeling great, due to the excessive heat and his ACL, he did great with all the extra people near his enclosure.  Grizzer looks good for a 13 year old wolf!  His current weight is 120.4 lbs. 
The Center participated in a Mirror Self Recognition Test with Dr. Shannon Barber-Meyers over the last few months.  She will be publishing her findings on the study.  Grizzer still shows the blue mark on his head from the mirror test.  It was definitely good stimuli for Grizzer. 

Grizzer – Liking The Routine
July 19th, 2017
Grizzer has now been on a special feeding routine for at least 3 months and it's benefited our goal of increasing Grizzer's weight as well as increasing his confidence.  To avoid any unnecessary dominance and to keep Luna on a well documented food plan, we separate Grizzer to the East Side Retired area for his feeding.  He knows the gate system and is very cooperative with staff.  His coat is still soft and glossy, and he still carries that tuft of hair on his neck that makes him appear to be wearing a something that typically starts to fade with age.  We did start him on a 10-day course of anti-inflammatory medication this week, his response to his ACL injury seemed to be more problematic with him not weight-bearing on his back leg.  We also had a recommendation to start him on Turmeric Curcumin with Bioperine as an anti-inflammatory and antioxidant supplement.  In addition, we are making some connections for a product called "System Saver".  Our colleagues at Wolf Park in Indiana have had good results with this product developed by a Veterinarian.    At his age, we definitely favor tying supplements before pharmaceuticals and their side effects.  The main goal is making him feel better.