Financial Statements
The International Wolf Center relies on financial and in-kind donations from members and donors, foundations, corporations and wolf enthusiasts around the globe to advance our mission. Below are PDF's of our annual reports, audited financial statements and IRS form 990's for the International Wolf Center's previous years' operations. Audited financial statements are available upon request from the development director, or you may view past Form 990's filed with the State of Minnesota.
2016 Annual Report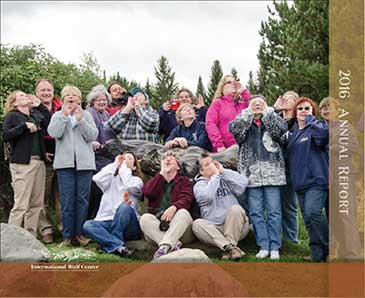 Arctic pups arrive in Ely!
The news of two new, rare arctic pups' arrival at the International Wolf Center in Ely began a year of excitement, unique pack dynamics and remarkable organizational commitment to their round-the-clock care. Our youngest educators arrived from Canada, becoming just two of 100 arctic wolves in captivity.
Our international connections continued with the naming of educator and wolf advocate Kirsty Peak of Dartmoor England as the winner of the Center's Who Speaks for Wolf Award. Planning for the Center's international 2018 symposium was fully underway and titled "Wolves in a Changing World."
At home, a building addition provided an improved wolf lab for the pups and pack, and the attraction of pups Axel and Grayson brought increased numbers of visitors to the Center, at 43,998, even higher than our last pup year.
Our mission—To advance the survival of wolf populations by teaching about wolves, their relationship to wildlands and the human role in our future—continues to guide us. You will see, in reading this 2016 Annual Report, all of the ways our work—and your contributions—carried that mission forward.
Just one example: Pup Care Volunteers, all 85 women and men coming from 15 states and Canada, nurtured the weeks-old wolves day and night. With their help, Axel and Grayson met Center visitors in 280 indoor entertaining and educational programs.
We thank our members, donors, staff, board members, volunteers and communities for the priceless time, energy, donations and spirit that helped make 2016 an outstanding year for wolves.
—Nancy jo Tubbs, board chair
Read more about what the International Wolf Center accomplished in 2016 with the help of our generous members and supporters. 
The International Wolf Center is a 501(c)(3) organization.
Save
Save
Save
Save
Save
Save
Save
Save
Save
Save
Save
Save
Save