Wolf Online Curriculum
Connecting People with Wolves Using Technology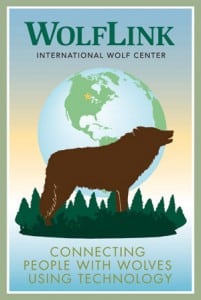 The International Wolf Center is proud to offer online curriculum resources for educators! Using the online platform Moodle,we currently offer two 10-hour courses that may be incorporated into your teaching as a supplement or as an entire unit of study.
 Highlights:
Programs feature access to real wolf experts
Programs meet Minnesota education standards and international technology standards
The lesson plans are designed to engage students in online discussions, lively presentations, independent study and assessments
Programs are designed for high school level students
Additional programs to be added in the future
Wolf Research Concepts
Audience: Grades 9 – 12
Discipline: Science, Technology
Hours of homework: minimum of 10*
Wolf research enables humans to better understand wolf behavior, ecology and conservation. During this course, your students will become familiar with a variety of tools that researchers use to study wolves. Using Web 2.0 tools, students will complete this 10-hour plus course using a minimum of three Web 2.0 tools such as Prezi, Google Apps or Animoto, including a discussion forum where assignments will be posted and reviewed by their peers.
For more information, email programs or call 218-365-4695.
---
Introduction to Wolf Ethology
Audience: Grades 9 – 12
Discipline: Science, Technology
Hours of homework: minimum of 10*
This course will cover 10 units defining ethology, the ethologists who shaped the profession, and the displays that define wolf behaviors. Throughout the course, topics will include web research, review of video, a study of an ethogram and as your student's skills increase, behavioral observation and recording of wolf behavior featured on the International Wolf Center Youtube channel.
For more information, email Lori Schmidt or call 218-365-4695, ext. 34.
*Teachers are encouraged to review the curriculum to assess the amount of time their own students may require to complete the coursework. Each course was designed to require a minimum of 10 hours student work time.
Save
Save
Save
Save
Save
Save