Exhibits

Moose of the Bold North
Moose is a word from the Algonquin that means "twig eater." These big ungulates are one of Minnesota's iconic species, and their declining population has put them in the news, increasing public awareness of their plight. The complexities of moose biology and the moose-wolf relationship have made it a challenging not only to determine the cause of this decline, but also to find a solution.
Moose are the largest wild animals in Minnesota and the focus of the International Wolf Center's 2018 temporary exhibit. The display will provide visitors an opportunity to stand next to an impressive, full-grown moose mount—nearly 6 feet high at the shoulder and close to 10 feet long—the sheer mass of which makes sense of the fact that these animals graze on vegetation for nearly eight hours every day.
"Moose of the Bold North" will provide visitors with insight into research occurring on Michigan's Isle Royale and in Minnesota.
As prey and predators in coexistence, moose and wolves on Isle Royale in Lake Superior are the subjects of one of the most fascinating, longest-running research projects in the world. Moose arrived on Isle Royale in the early 1900s; wolves arrived almost a half-century later in 1949. For nearly 60 years, researchers have studied their population fluctuations and other aspects of their coexistence, seeking a better  understanding of the ecology of predation. The new exhibit highlights this research and hints at what might happen next in the ongoing Isle Royale story.
Research on likely causes of moose population decline in Minnesota began in 2012, with data collection focused on environmental factors, calf mortality and winter survival. The results have surprised some people, as brain worms, ticks and predation have each played a role in moose population fluctuations.
Between now and May 2019, plan to visit the International Wolf Center to experience the "Moose of the Bold North" exhibit—and the stunning photography by Heidi Pinkerton that accompanies it. You'll come to understand a long-running drama that continues as biologists search for answers to long-standing questions.
---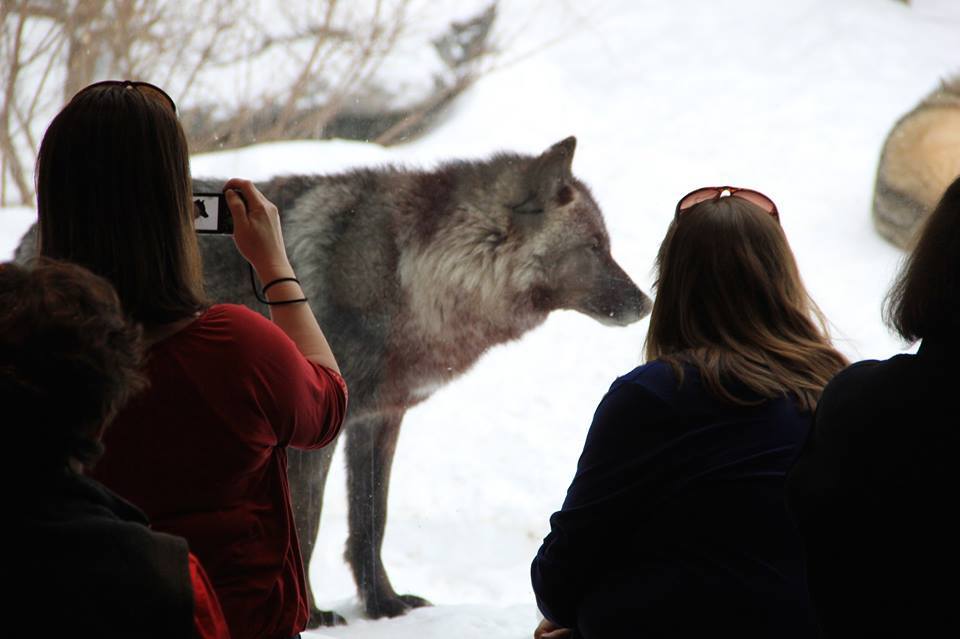 See our Ambassador Wolves
Our interpretive center in Ely features expansive observation windows with spectacular views of our resident ambassador wolves as they interact with each other in the natural 1.25-acre wolf enclosure and den site.
Currently, the Exhibit Pack includes two Rocky Mountain wolves: Aidan and Denali, Boltz, a Great Plains wolf and two arctic wolves, Axel and Grayson. And yes, they can see you and may be curious enough to approach you within inches of the observation glass. Be sure to bring your camera to capture this unforgettable experience!
---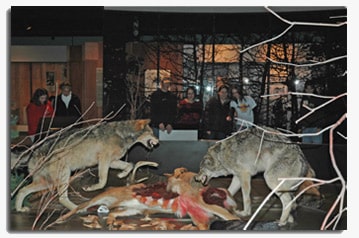 Wolves and Humans
Werewolves and puppy dogs, spirit wolves and Canis lupus on the hunt await visitors to the award-winning Wolves and Humans exhibit designed by the Science Museum of Minnesota. Both in fantasy and reality, the wolf has held deep meaning for humans. This hands-on exhibit shows the fascinating, age-old dance between wolves and humans and the modern conflicts that still threaten the wolf's survival.
---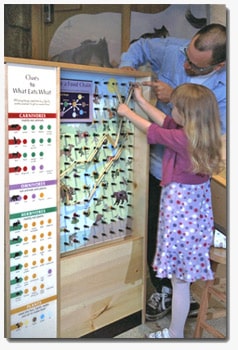 Little Wolf
Crawl into the Little Wolf den in this delightful children's exhibit and what do you hear? The soft whimpering of pups! Children ages 3 to 9 can romp with the spunky character, Little Wolf, through the four seasons of a pup's first year. Kids will discover a moose towering over Little Wolf's mailbox, mysterious holes to explore and lively games and activities. Kids AND parents enjoy this exhibit, designed by the Science Museum of Minnesota, with artistic help from Ely community members.
Save
Save
Save
Save
Save
Save