Kiana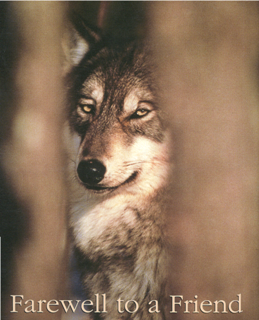 Kiana, Great Plains subspecies of the gray wolf, was born April 28, 1993 and was the beta female to her sister MacKenzie since they were pups.  She had a close bond with MacKenzie, often reinforcing MacKenzie's status with long submissive greetings and close contact. She also took her second ranking role seriously and kept Lakota in line with active and sometimes intense interactions. Her interest in food made her the star of weekly feeding programs. On December 26th, 1998, Center Staff sadly announced the death of Kiana. Visitors saw her acting normally before she appeared to have a seizure and lay down on a snowy path and die. Necropsy reports showed the possibility of a heart related metabolic seizure that caused death within minutes. For those of staff, visitors and members who have been associated with the Center from the start, she is fondly remembered as the wolf with an incredible stare. She was the epitome of expressive body language.
For those of you who would like to honor Kiana or any of the "Gone But Not Forgotten" ambassador wolves, please consider a gift to the Wolf Care Fund in their memory. This fund goes directly to the continued care of current and future wolf pack mates.
Recent Logs for Kiana:
No current logs, check back later.