Aidan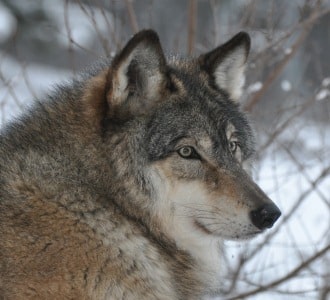 Aidan and Denali were born on April 27, 2008 and joined the Exhibit Pack on August 4th, 2008. The 2008 pup introduction was very unique for the Center as it was the first time that our Exhibit pack contained three subspecies of the gray wolf and three age groups-the arctic wolves (Canis lupus arctos) born in 2000, Great Plains wolves (Canis lupus nubilus) born in 2004 and Rocky Mountain wolves (Canis lupus occidentalis) born in 2008. Aidan was clearly the more submissive of the two pups during the first few years of his life, and was considered a lower ranking wolf. He was often forced to submit by Maya, the dominant female of the Exhibit Pack from 2005 – 2011. After Maya's death, Aidan took on a higher ranking role and was the leader of the pack for the 2012 and 2016 pup introductions.  Aidan remained the pack leader until being deposed primarily by Axel and Boltz during the winter of 2017-2018.  On July 25th, 2018, we moved Aidan from the Exhibit Pack and he joined Grizzer and Luna in retirement. He resumed his social relationship with both pack members; Luna was his "co-pack leader" and Grizzer was a social companion that adopted Aidan back in 2008.  Now that Grizzer was advancing in age, Aidan seemed to return the favor, being a source of comfort and familiarity for Grizzer as his vision began to decrease.  Being a pack leader can be tough, and over the years, Aidan had issues with auto-immune disorders.  Since 2017, he battled mast cell tumors that would emerge around the time pack dynamics changed. He lost the battle to these mast cell tumors and passed away on August 14th, 2019.  He is sorely missed by humans and wolf alike. 
For more information on our ambassador wolves, watch extended wolf videos on the International Wolf Center's YouTube Channel or enjoy a close-up of wolf behavior on our Wolf Watch Cams.
If you are interested in sponsoring Aidan, please click here.
Save
Save
Save
Recent Logs for Aidan: