Lucas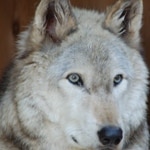 Lucas, a Great Plains subspecies of the gray wolf, was born on April 28, 1993. Living with his sisters, MacKenzie, Kiana and Lakota, he became the dominant male by default; He was the tallest wolf in the 1993 litter and later used that height to display dominance behaviors called 'Stand-Overs".  The reality was, with no other males in the pack, he had limited reason for dominance displays.  Most of the dominance behavior was between his female littermates.  Lucas was the last of the 1993 litter to be retired in the fall of 2002. Due to his lack of overt dominance, Shadow and Malik deposed MacKenzie first, then Lakota in August of 2002, then Wolf Care staff moved Lucas into retirement in September of 2002.  By the age of 13, Lucas has developed cancer and was euthanized on July 11, 2006.
For those of you who would like to honor Lucas, please consider a gift to the Wolf Care Fund in his memory. This fund goes directly to the continued care of current and future wolf pack mates.
Recent Logs for Lucas: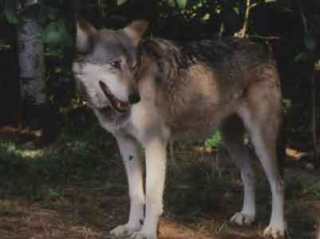 Lucas – Jul 17, 2006 12:00 AM
July 17th, 2006
Thanks for the many emails and phone calls from wolf care supporters… Over the next few weeks, we will be including photos of Lucas sent by those who felt a strong connection and appreciated his presence as an ambassador wolf.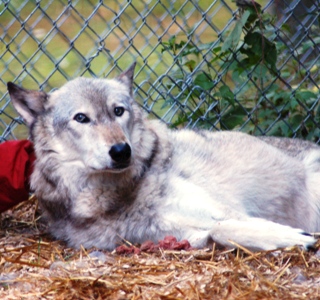 Lucas – Jul 13, 2006 12:00 AM
July 13th, 2006
Sorry for the delay in logs, as we always state, the first priority of all of our wolf care tasks is the task of caring for our wolves. As previous logs have shown, Lucas was having some difficulty with mobility and we were trying some painkillers, and he seemed to respond well, but as they wore off, he declined again. We were very cognitive of long-term use of painkillers and thinking that this was a response to the degenerative spine condition identified in an exam 2 – years ago, we tried to wean him of the pain killers after a week and replace them with steroids, with the intent that the anti-inflammatory would relieve the pain. Lucas did not respond to the transition, although he had individual days of improvement, his overall decline continued. Vital sign checks in the last few days of his life showed a strong heart, but a lowering body temperature. We placed straw in the den box to make him comfortable and give him an insulation effect. Our efforts in the last days were to spend time with him, make him comfortable and attempt to reduce his pain. Lucas's photo this week, shows the face of a wolf enjoying the attention. On the afternoon of July 11th, a status check of his temperature and an assessment of his mobility, as well as the look in his eyes, led us to make the decision that as managers, the most humane thing we could do, was to help ease his suffering. He held his head high, even as his legs gave out. He was surrounded by staff as first an injection of a standard immobilizer was given. He fell asleep in the straw bed in the corner of the exhibit, before he was carried to the adjacent vestibule, where he was euthanized. Board member, and friend of the wolf care program, Larry Anderson injected the final euthanasia dose, as staff members were inside the enclosure to distract Lakota and MacKenzie from the gate. After this week's logs, Lucas will join a new pack, the Gone, but not Forgotten pack.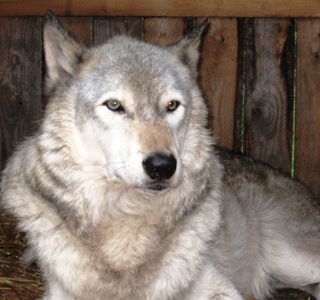 Lucas – Jul 3, 2006 12:00 AM
July 3rd, 2006
Lucas is responding well to the Deramax pain killer. He is most active later in the day, and most stiff when staff arrive in the morning. Staff have been taking the time to walk him around the enclosure to work on muscle tone, but are cautious to not over stress him. As today's photos show, he still has an alert look, with clear eyes. Monitoring pain in wolves is more challenging than dogs as their tolerances seem to be so much higher. But, with Lucas, his discomfort is shown in his eyes, and the more staff observe, the more they can notice subtle changes in condition. The web cam seems to be malfunctioning in the Retired Enclosure, and tech support has been contacted. We hope to have this up and running soon.

Lucas – Jun 28, 2006 12:00 AM
June 28th, 2006
Lucas's condition has improved this morning after 24 hours of Deramax pain killer.  Although, he continues to show difficulty defecating.  The effectiveness of Deramax may reduce his pain, but this is still a degenerative situation.  It's difficult to determine how long the Deramax will be effective.  Realistically, we will likely see continued decline in the next 6 – 12 months, although other factors may influence this such as weather conditions.  We will continue to use Deramax as long as it keeps him mobile, I will keep taking video footage to document condition.  If the Deramax loses effectiveness, we can switch to Steroids. We will use the wolf logs to keep all supporters informed. Thanks again for all the kind thoughts and emails sent by the wolves supporters.