Luna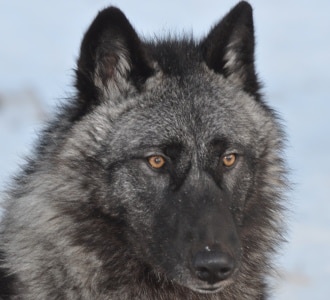 We acquired Luna in April of 2012 as a 20 day old pup.  Shortly after her arrival, we noticed that she had some mobility issues.  After she suffered an injury from what should have been an non-event for a healthy pup, we discovered that she had a bone density issue that may be related to a vitamin D deficiency. She had surgery to repair her injury at the University of Minnesota Veterinary Hospital at a month of age and started nutritional supplements specially designed for her needs.  To this day, she takes daily supplements for this deficiency.
Luna is representative of the Great Plains subspecies and is a black color phase, which is believed to be found in less than 5% of the population in Minnesota. Luna was introduced to the Exhibit Pack in July of 2012 and spent 4 years as the dominant (and only) female in the Exhibit Pack.  She had an intensity that was heightened during the weekly carcass feedings, but also when she showed vulnerability within the pack.  When the 2016 pups were adopted, we noticed Luna's intensity increase and were concerned about potential defensive behavior towards the pups.  After consultation with the Center's veterinarian, it was decided to transition Luna out of the Exhibit pack giving time to  assess Luna's physical limitations and determine if there may be underlying issues causing her defensive behavior.  She is currently receiving additional care and feeding protocols in retirement and just recently joined our other retired wolf, Grizzer.  They both have access to the 3 enclosures including the "East Side Retirement", the "Back Habitat" and the "Pack Holding Area".  There is a webcam currently focused on the Pack Holding Area that closest to the wolf yard and the center of activity on site.
For more information on our ambassador wolves, watch extended wolf videos on the International Wolf Center's YouTube Channel or enjoy a close-up of wolf behavior on our Wolf Watch Cams.
If you are interested in sponsoring Luna, please click here.
Save
Save
Recent Logs for Luna: