MacKenzie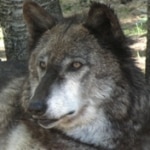 Ambassador Wolf MacKenzie died in her sleep Wednesday, May 21 at 15 years-old. 
For those of you who would like to honor MacKenzie, please consider a gift to the Wolf Care Fund in her memory. This fund goes directly to the continued care of current and future wolf pack mates.
MacKenzie, a Great Plains subspecies of the gray wolf, was born April 28, 1993. A black color phase wolf, MacKenzie was the dominant female since she was a pup and continued to be dominant in retirement, even until the day she died. For each wolf, you will see a weekly photo, notes on behavior or physical health and a video clip.
Please note, due to the large file size of the video clips, they will only be archived for 30 days. Text and images from logs do stay with each wolf as they travel from pups, to the Exhibit Pack to Retirement and to the Gone but Not Forgotten Pack.
Recent Logs for MacKenzie: