Nyssa
Nyssa was a black color-phase female born on May 12, 2004 and was tragically lost on May 11, 2005. When staff began bottle-feeding Nyssa, her younger age and smaller body size led staff to be very protective of this little pup. Care and efforts were effective as Nyssa grew into a very independent, muscular wolf. Her medical exams on May 6th showed her weight at 95 lbs, compared to Maya's 79.5 lbs. Nyssa will be most remembered by her intense behavior during the Center's feeding program. Nyssa dominated the carcass, not only showing dominance to her fellow pups, but lunging with full-teeth barred to the arctics as well. 
If you're interested in reading Nyssa's past logs, select a Month from the drop-down menus on the left of this page under Archives. You can read all of the Nanny notes from the summer of 2004, "The Summer of Pups". 
Nyssa's death was a tragic loss. Amid deeply felt emotions, Center staff and board members conducted a rigorous external review of the Center's wolf management practices. The review helped clarify what might have contributed to Nyssa's death. The recommendations of the outside reviewers are, in part, a way to create meaning from the loss. 
For those of you who would like to honor Nyssa, please consider a gift to the Wolf Care Fund in her memory. This fund goes directly to the continued care of current and future wolf pack mates.
Recent Logs for Nyssa:

Nyssa – Jul 7, 2006 12:00 AM
July 7th, 2006
Nyssa – Apr 7, 2006 12:00 AM
April 7th, 2006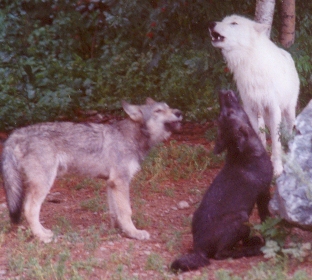 Nyssa – Aug 26, 2005 12:00 AM
August 26th, 2005
Behavioral Observation Team Member Janet Narron sent this tribute to Nyssa: It's split in three sections to fit in the space allowed: One year ago this month (August), I took a journey northward to find the International Wolf Center. I was to be a part of the Behavioral Observation Team. Three magnificent wolf pups were to be assimilated into the world of Shadow and Malik, thereby creating a new family, a new pack. The week would be like nothing I had ever known. It is, to this day, my most rewarding trip. As I write this, my IWC identification badge for the week still hangs above my desk. The badges each displayed photos of our assigned wolves for the week…mine reads…Janet Narron—NYSSA. I am not a scientist, or a teacher, or a wolf biologist. I am just someone who has always been intrigued with wolves, although I knew very little about them. Perhaps I was drawn to their mesmerizing beauty or simply their ever-present air of mystery. I was so thrilled, as I drove along unfamiliar roads, to think I would have the chance to be near wolves, to watch them and to photograph them. I certainly never imagined how it would feel to hold one in my arms.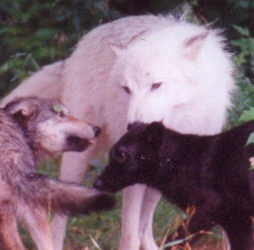 Nyssa – Aug 25, 2005 12:00 AM
August 25th, 2005
Part II – Janet Narron's tribute: I had spoken to the curator, Lori, prior to my trip, confirming photography guidelines. As part of the team, she said if I could arrive on Sunday, I would be able to see the pups in their enclosure and take pictures; they would be released into the large enclosure the following morning. I pushed myself to get there, and although disheveled and feeling a bit out of place I found myself in the pup pen with Grizzer (all feet), Maya (all shyness and ear troubles), and Nyssa (all belly). Euphoric as I was, I fumbled around taking pictures of the pups. Lori asked if I wanted my picture taken and I said sure. I was sitting on a stump and figured it would be a shot of me sitting there with wolves napping nearby. I looked up and she handed me Nyssa…my wolf for the week. … I was thrilled beyond description. That moment will never, ever leave me. Without the International Wolf Center coupled with Lori's unbelievable patience and generosity toward yet another untrained volunteer, I never would have experienced what it feels like to hold a truly wild heart in my hands. To be able to connect with a spirit such as Nyssa's and to feel the life pulsating through her body against my chest was quite possibly the happiest moment of my life. I would spend the next week watching Nyssa's every move…when I could find her. Needless to say, it is very difficult to put into words, and of course the tears now flow, but I wanted to try and share a bit of my experiences, as others have shared memories of Nyssa.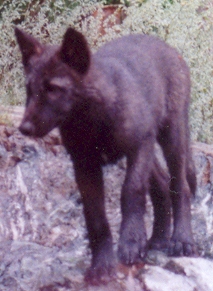 Nyssa – Aug 24, 2005 12:00 AM
August 24th, 2005
When I learned of Nyssa's heart wrenching, premature death, I had been checking the website planning to return to take photos. I was amazed at the growth of the pups throughout the year and at how incredibly majestic Nyssa had become. I am not sure what it was I felt as I read the announcement. In shock and sobbing, I read the paragraph over and over. It is truly quite amazing how Nyssa touched so many lives in her one short year on this planet. Each of us can only hope and strive to make such a strong impact on others. I am so very grateful to the IWC for allowing me the opportunity to join Nyssa's world for a time and the world of her family, both human and animal. Some experiences in life you just never forget. I will never forget the day I held a wolf in my arms. Thank you Nyssa…you are missed. Sincerely, Janet Narron Behavioral Team Observer 2004