Montana at a glance
Gray wolves once existed throughout Montana but persecution and, eventually, poisoning began shortly after European settlement, and by the late-1930s no wolves were left.
In the early 1980s, wolves dispersed from Canada, making their way back into northwest Montana. Wolves also began moving north and east into Montana from Wyoming and Idaho after wolf reintroduction in those states in 1995 and 1996. Wolves continue to be a controversial subject, and public attitudes vary.
Main prey for wolves there are elk, moose, deer, bighorn sheep, mountain goats and beaver. Wolf range is approximately 20 percent of the map shown, with most wolves occupying the western portion of the state. Range lines are not depicted.
Montana's wolf management plan includes an annual harvest season. Additional information
Species Information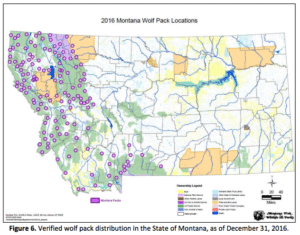 Species
Common Name: gray wolf, northwestern wolf, Rocky Mountain wolf
Latin Name: Canis lupus
Location: Wolf range in Montana is shown in purple on the map.
Current Wolf Population, Trend, Status
Number of wolves: minimum of 477 in 2016 (as estimated by the Montana Fish, Wildlife and Parks)
Population trend: Stable
Legal status: State managed as of May 5, 2011
Human Relationships
Recovery and Management
Hunting
Ecology
Habitat
Prey and Predation
Barber, S. M., Mech, L. D., and White, P. J. 2005. Yellowstone elk calf mortality following wolf restorations: Bears remain top summer predators. Yellowstone Science 133:37-44.
Cook, R. C., Cook, J. G., and Mech, L. 2004. Nutritional Condition of Northern Yellowstone Elk. Journal of Mammalogy, 85(4), 714-722. 
Depredation