New Mexico at a glance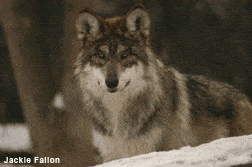 The Mexican gray wolf once roamed throughout most of New Mexico, Arizona, Texas and Mexico. Persecution and, eventually, poisoning, began shortly after European settlement. On March 29, 1998, eleven captive wolves were released into the Blue Range Wolf Recovery Area. This reintroduced population is shared by New Mexico and Arizona.
Main prey for wolves there are elk, deer and domestic livestock. Much controversy surrounds these wolves, due in large part to depredation (killing livestock) issues. Wolves in New Mexico range in less than five percent of the map shown. Range lines are not depicted in the map above.
Species Information
Species
Common Name: Mexican gray wolf, gray wolf, maicoh (Navajo), tasha (Caddo), lobo (Spanish)
Latin Name: Canis lupus
Current Wolf Population, Trend, Status
Number of wolves: 114 in a shared population with Arizona (2017)
Population trend: Steady
Legal status: Federal protection, with some exceptions
Endangered Species Updates
Human Relationships
History
Recovery and Management
Depredation
Wolf-Human Interactions